Marine Geology & Geophysics Field Course Debuts
September 15, 2008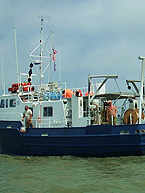 In May, the Jackson School debuted the new Marine Geology & Geophysics (MG&G) Field Course, designed to provide hands-on instruction for graduate and upper-level undergraduate students in the collection and processing of MG&G data. Sean Gulick, Mead Allison and John Goff, research scientists at the Institute for Geophysics (UTIG) taught the course.
Five graduate and three undergraduate students learned first hand the tools of the MG&G trade: multibeam bathymetry, sidescan backscatter, chirp seismic reflection, multichannel seismic reflection, and sediment grain size analysis. Field work lasted for a week, with two boats operating daily out of UT Medical Branch's dock and the class staying in the dorms at the campus of Texas A&M Galveston. The week and a half following the field work were devoted to visualization and interpretation of the data on UTIG computers. The final product, and the primary basis for grading, was an oral team presentation of their findings.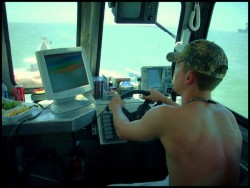 "More science classes should be taught this way," wrote Kelley Brumley, a graduate student from the University of Alaska, Fairbanks who participated. "I think we (the students) learned more in those two weeks than would have been possible in any amount of traditional classroom time."
Few geosciences programs around the country offer this kind of course. Before this year, undergraduate geophysics students at UT Austin had to go outside of the university to fulfill their field course requirements for graduation. There was also no coordinated way to train undergraduate and graduate students in the marine geophysical techniques they would need in their careers. The course was funded by the Jackson School. Gulick, Goff and Allison plan to offer it again each spring.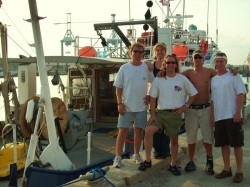 "There's no substitute for actual experience out at sea," said Goff. "It's very different from an academic exercise. You've been to the location, seen the barrier islands and estuaries, there's an ownership that makes you far more involved than if you weren't."
Gulick said students learned how to work in teams and how to adapt when things inevitably don't go as planned in the field, such as bad weather and equipment failures. Perhaps the most valuable thing students learned, he said, is whether collecting MG&G data is something they'd like to do for a career.
"You either like going to sea or don't," he said. "You either like getting your hands dirty with the equipment or you don't." After the course, two undergraduates asked Gulick for more information about graduate school. One said the course was an "eye opener" and that he was interested in pursuing a career in MG&G.
by Marc Airhart
For more information about research at the Jackson School, contact J.B. Bird at jbird@jsg.utexas.edu, 512-232-9623.