Kiel Receives Graduate Research Fellowship
May 16, 2008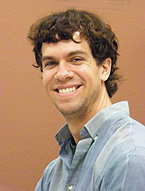 Brian Kiel, a master's student in the Jackson School of Geosciences, has received a Graduate Research Fellowship from the National Science Foundation. The fellowship will provide $30,000 per year in living expenses for the next three years as he conducts research towards his master's degree.
Kiel will analyze three-dimensional seismic data collected by the oil industry on the Sunda Shelf offshore Indonesia to reconstruct the ancient climate and hydrology of the region. This information will help climate modelers make more accurate forecasts of future climate. His work also highlights ways that academics can collaborate with industry to yield new insights.
The Sunda Shelf interests climate modelers for at least two reasons. First, over the last 10 million years sea level rose and fell, sometimes leaving the shelf exposed above the water and at other times, such as today, leaving the shelf submerged in shallow water. Exposure of the ancient shelf led to creation of land bridges for human and animal migration between islands, changed the regional ratio of land mass to water mass impacting climate, and affected connections between the Asian and Indian ocean, thus changing ocean circulation patterns.
Second, strata of the Sunda Shelf contain an indirect record of changes in Asian monsoons, an important but very poorly understood element in global climate.
Layers of rocks and sediments imaged by seismic data record cycles of shelf exposure and paleo-landscape development due to monsoons. For example, the sizes, shapes and numbers of river and stream channels occurring at different times indicate monsoon timing, rainfall amounts, flow volumes and drainage to the ocean.
"There are many signals woven into the geology," said Kiel. "So untangling them takes a lot of effort, but we're on our way."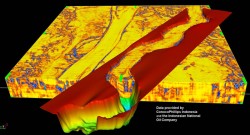 Kiel and his advisor see this type of data as a vast, untapped resource for university researchers. Collected by the government of Indonesia and ConocoPhillips Indonesia Inc. Ltd. to explore for potential oil and gas reservoirs, the data is expensive to collect and valuable to its owners. Similar 3D seismic data is too expensive for most academic researchers to go out and collect themselves. And petroleum companies tend to guard it carefully because it gives them an edge over competitors. So most researchers aren't accustomed to using this type of data.
"In the case of the data we're using, it's shallower in the subsurface than the industry is focusing on," said Kiel. "So they don't mind giving us data from an area they're not hoping to produce from. Everyone wins and they don't have to worry about this data getting out."
Lesli Wood, research scientist at the Jackson School's Bureau of Economic Geology and Kiel's advisor, worked with ConocoPhillips Indonesia to get access to the data.
"This research project is an opportunity to showcase to the academic community what you could do with this industry data to impact what are these academic but very applied questions about what climate was doing," said Wood.
Kiel and Wood work in the Quantitative Clastics Laboratory, an Industrial Associates program at the Bureau.
by Marc Airhart
For more information about research at the Jackson School, contact J.B. Bird at jbird@jsg.utexas.edu, 512-232-9623.