Faculty Promotions Enhance Geology Library Collection
May 14, 2008
John Lassiter's Book Selection

The Jackson School recognizes promotions by adding to the Walter Library a book, chosen by a newly promoted faculty member or research scientist, with a name plate in their honor as a lasting contribution to future scholarship.

For 2008, each individual receiving a promotion effective during the 2007-08 academic year was invited to select a book. The individuals are listed below along with their books and explanations.
Sergey Fomel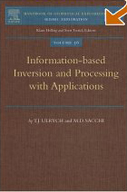 Information-based inversion and processing with applications
by T.J. Ulrych and M.D. Sacchi
The authors are distinuished geophysicists from Canada. The main author (Tad Ulyrch) recently retired from the University of British Columbia and currently serves as the SEG Distinguished Lecturer. He is knowm for his ability to explain difficult concepts such as seismic inversion and data processing clearly and using simple motivational examples.
I find his work inspirational and hope it will also inspire many generations of students at the Jackson School of Geoscineces.
Mike Hudec
Darwin on Trial" (2nd ed., 1993)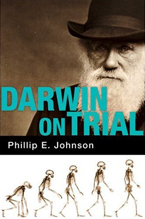 by Phillip E. Johnson
Darwin on trial is a somewhat an unusual choice, in that the author is not a scientist. Rather, Phillip E. Johnson spent his entire career teaching law at the University of California, Berkeley, where he specialized in the logic of arguments. As Johnson's back ground suggests, his critique of Darwinian Evolution is based on neither Biblical literalism nor on detailed evaluation of the scientific data. Rather, he looks at the structure of the arguments used to support naturalistic evolition, and asks if they are logical. After careful analysis, he conculdes that many are not. The book caused a sensation upon its original release in 1991, and many of its central points remain topics of sharp debate to this day.
I find much that is admirable and inspirational in Johnson's work. Johnson is willing to attack scientific orthodoxy wherever he finds it unconvincing. He insists that points of scientific debate should be decided on the merits and logic of the arguments and not on philosophical or religious bias. In doing so, he raises the level of the debate on both sides, and forces proponents to anyalze their presuppositions more carefully. As such, Darwin on Trial is recommended for reading for those on all sides of the creation/evolution debate. Depsite Johnson's lack of scientific training, his book stands in the best and truest traditions of science.
Sean Gulick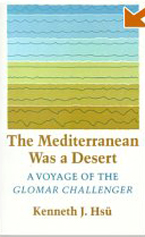 The Mediterranean was a Desert
by Dr. Kenneth Hsu
This book describes the amazing events of Deep Sea Drilling Program Leg 13 when they first drilled into the M-reflector that underlies all of the Mediterranean Sea. They pulled up a core nicknamed the "Pillar of Atlantis" that turned out to be entirely made up of evaporites. This discovery led to the conclusion that the Mediterranean Sea actually dried up completely ~5 million years ago, due to the Straits of Gibralter having closed up tectonically. I first read this book during a scientific writing class as a freshman at the University of North Carolina.
At the time I knew I wanted to study some aspect of Oceanography. However, it was reading of the exciting events on the drill ship, of life at sea, and of how geophysics and geology can be integrated in the marine environment to answer scientific questions that led me to decide on Marine Geology as a career.
Mark Helper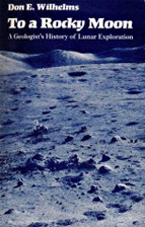 "To a Rocky Moon: A Geologist History of Lunar Exploration"
by Don Wilhelms
Decription not yet available.
Randy Marrett
"Surely You're Joking, Mr. Feynman!" Adventures of a Curious Character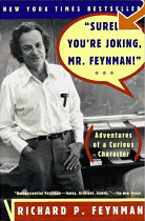 by Richard P. Feynman
Richard Feynman's contributions to physics were recognized in 1965 by a Nobel Prze, but he might have made an even bigger impact in science by inpiring countless minds with this hilarious book. It glorifies the spirit of science at it's best, the attempt to perceive and understand nature, including ourselves.
Adventure is the inevitbale outcome of honest insightful science. Feynman's adventures make great stories, collected by the son of a fellow Caltech physics professor during seven years of weekly sessions of bongo drum playing. Most of the stories have at least the backdrop of science, but they all reveal the playful mind of a great scientist. I think we should all strive to have as much fun doing science as Feynman did.
Liang Yang
Climate Variability and Extremes during the Past 100 years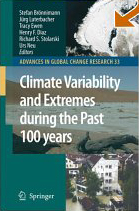 Stefan Broennimann, Jürg Luterbacher, Tracy Ewen, Henry F. Diaz, Richard S. Stolarski, Urs Neu (Eds.)
Defining, understanding and predicting charactersitics of extreme climactic events is only one of the grand challenges in the climate research community, but also of direct relevance to society.
It appears that this book is in line with what my group is doing. Also, I hope that this book will be useful to other researchers and students in the Jackson School.
John Lassiter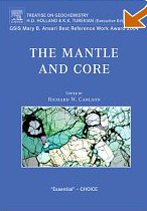 The Mantle and Core
R.W. Carlson, ed.
The mantle and the core comprise over 99% of the mass of Earth, and the geologic evolution of the Earth's surface is intimately realted to the evolution of the Earth's dep interior. It has long been my belief that significiant progress in our understanding of Earth's deep interior requires a multidisciplinary approach. My most recent work on the coupled thermal and chemical evolution of the mantle and core illustrates how many important problems in the Earth Sciences are best examined at the interface between disciplines, such as geochemistry and geodynamics. If we are truly to make progress in our understanding of the Earth, we must all be willing to look beyond self-imposed boundaries of our fields of specialization and learn to recognize the links that relate all sub-disciplines of the Earth Sciences.
This book presents a compilation of contributions from so of the top geoscienctists active in the study of Earth's deep interior, and is a perfect example of the multi-disciplinaty approach that I espouse. The book presents contributions from the fields of geochemistry, cosomochemisty, mineral phyisics, experimental petrology, seismology and geodynamics. Each contruibnution provides unique and complimentary contraints on the compostion, origin and evolution of the Earth's mantle and core. The book provides an excellent introduction to one of the most exciting and dynamic areas of research in the Earth Sciences.
For more information about the Jackson School contact J.B. Bird at jbird@jsg.utexas.edu, 512-232-9623.