Nation's Largest Geoscience K-12 Program Expands To Houston, Largest Market for Geologists
January 16, 2008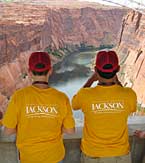 Houston public school students have a new opportunity to explore science through GeoFORCE Texas, a summer college preparatory program that inspires students to excel in math and science and pursue studies in the earth sciences.
In partnership with the Houston Independent School District (HISD), The University of Texas at Austin's Jackson School of Geosciences will admit 160 HISD students into GeoFORCE for the summer of 2008, selecting from entering ninth and 11th graders. The program will expand to 320 students from all four high school grades the following year.
The Jackson School started GeoFORCE in 2005 to address two pressing needs: inspiring the next generation of geoscientists and fostering increased diversity in the U.S. science and technology workforce.
The program encourages students with high aptitude in math and science to consider careers in the geosciences by offering them free field courses in geologically significant locations across the country. Students attend either week-long academies—traveling to Texas, New Mexico, Arizona, Oregon and Washington, D.C.—or shorter field courses in Texas.
Originally, the program recruited from public schools in the predominantly Hispanic region of southwest Texas. GeoFORCE has grown since 2005 to become the largest geoscience pipeline initiative in the country, with 320 students from southwest Texas. The expansion to Houston will double the program to 640 students by 2009.
Students can attend the program throughout high school if they maintain a minimum B average overall and in math and science courses. Since the program started only three students have left the summer academies, none for academic reasons.
"The retention rate is extraordinary for a pre-college summer program," said Eric Barron, dean of the Jackson School of Geosciences. "It shows the excitement of the GeoFORCE model of learning from professionals in spectacular locations. We expect many of these students to show strong interest in science at the university level."
Houston demographics are not the same as the southwest region. The public school population of southwest Texas is rural and 85 percent Hispanic, with very few African Americans. The Houston public school population is urban, 59 percent Hispanic, 29 percent African American and eight percent white, with a sizeable Asian population and some Native Americans.
While the demographics differ, "We believe the GeoFORCE approach will achieve similar results," said Barron.
The move to Houston came at the impetus of major funders ExxonMobil, Shell, BP, ConocoPhillips and other geoscience firms in the city. The Texas Workforce Commission also provides funding to help prepare the state's future high-tech workforce.
"Houston is a natural fit for GeoFORCE," said Michael G. Loudin, manager of global geoscience recruiting & new hire development at ExxonMobil. "It has a very large underrepresented population and more employers of geoscientists than any other city in the world, with the oil and gas industry, environmental consultants, numerous service industries, two world class universities and NASA. This means we have an abundance of potential sponsors for the program and also an abundance of role models for the students."
According to statistics from the United States Congress, African Americans and Hispanics represent 20 percent of the overall U.S. workforce but less than seven percent of the science, engineering and technology workforce. They are particularly underrepresented in the geosciences, earning about four percent of geoscience degrees.
The geoscience sector faces a dire workforce situation. The profession—whose members look for energy, steward environmental resources, and forecast climate change and natural disasters—anticipates a major wave of retirements over the next decade. The retirements take place as the U.S. is experiencing a nationwide decline in academic performance and student interest in math and science.
"GeoFORCE represents a focused effort by the Jackson School to encourage and support substantial numbers of minority students from Texas in receiving a college education," said Loudin. "We think that many of these students will study geoscience or reservoir engineering in college, and we would be delighted to see others among them studying any of the science, technology, engineering or mathematical disciplines."
More than a dozen sponsors fund GeoFORCE overall including Shell, ExxonMobil, BP, Marathon Oil Corporation, the Texas Workforce Commission, Chevron, Halliburton, and ConocoPhillips.
High schools selected for participation in the initial year of the Houston program are Chavez, Madison, Scarborough, Sharpstown, Sterling, Washington and Worthing.
Middle schools are Attucks, Burbank, Clifton, Fondren, Hamilton, Hartman, Hogg, Holland, Jackson, Key, Lanier, Long, MC Williams, Ortiz, Revere, Ryan, Sharpstown and Stevenson.
Interested HISD students in eighth and tenth grades should ask their science teachers or counselors for assistance with the application process. The deadline for applications is Jan. 25.
For more information about research at the Jackson School, contact J.B. Bird at jbird@jsg.utexas.edu, 512-232-9623.