Science Online: Aaron Averett develops internet applications that incorporate Geographic Information Systems (GIS) in support of several Bureau projects
October 24, 2007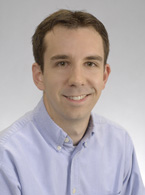 Aaron Averett joined the Bureau of Economic Geology as a research scientist associate in May 2006.
Averett develops internet applications that incorporate Geographic Information Systems (GIS) in support of several Bureau projects. He recently developed a surface casing estimator application for the Texas Commission on Environmental Quality. This application uses data representing the depth at which groundwater contains specific levels of dissolved solids, allowing users to determine the depth at which a particular concentration occurs for a given location. This information can then be used to determine how to construct a well that complies with environmental regulations.
He is also making information on the Bureau's extensive geologic sample and log collections available to researchers around the world. This application uses GIS to generate a map showing the location where each sample originated and provides information about the sample and the site.
"This is a relatively new field, especially in terms of web applications," Averett said. "Every six months we get a new version of the server software and our capabilities increase. It dramatically improves what we can accomplish."
Averett earned his B.S. in geography with a specialization in GIS at Texas A&M University in 2006, where he also developed Web applications for their Department of Psychology.
For more information about the Jackson School contact J.B. Bird at jbird@jsg.utexas.edu, 512-232-9623.