Underwater Landslides: Lorena Moscardelli develops a classification system for submarine mass transport complexes which sometimes spawn tsunamis
September 14, 2007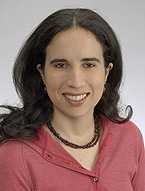 Lorena Moscardelli joined the Bureau of Economic Geology as a research associate in June 2007, after earning her Ph.D. from the Jackson School's Department of Geological Sciences in May.
Moscardelli's main interest is in mass transport complexes, research she began while working on her dissertation. She also participates in the State of Texas Advanced Resource Recovery program.
"In the past I was describing these deposits, their morphology and architecture," she said. "Now I am at the stage where those descriptions will allow me to develop a new classification system."
Currently, she is working on a classification system for submarine mass transport complexes–slope-attached systems, shelf-attached systems and detached systems– whose different characteristics affect the timing of mass transport events and their propensity to produce catastrophic results, such as tsunamis.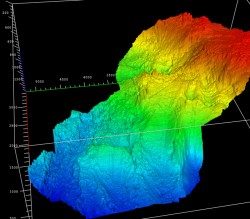 "We are trying to better understand these deep water deposits and the implications of these events for coastal communities, to mitigate the hazards," Moscardelli said. "They are also an important element when we are exploring for oil and gas."
Moscardelli recently acquired an advanced work station that allows her to handle very large data sets more efficiently.
"We want to describe the deep water setting with the beautiful data sets we have," Moscardelli said. "They are huge and very high quality. That is unique about this program– other universities may have access to the data, but we have the resources and the computer power to analyze it more efficiently."
For more information about the Jackson School contact J.B. Bird atjbird@jsg.utexas.edu, 512-232-9623.