Quantitative Seismic Geomorphology
September 1, 2007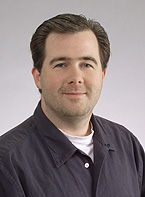 Dallas Dunlap returned to the Bureau of Economic Geology as a research scientist associate in June 2006, a position he previously held from 1996 to 2004.
Dunlap works in the Quantitative Clastics Laboratory Industrial Associates program (QCLIA) where his research focuses on the analysis and visualization of morphology in seismic data. Known as quantitative seismic geomorphology, this approach involves imaging sedimentary forms–channels, deltas, shelf sands, debris flows, and mass landslide deposits–from seismic data to understand the evolution of continental margins. "We are looking at how sediment moves from the continental shelf to deep water," Dunlap said. "We also want to better understand how sediments are deposited and preserved in the subsurface, which can lead to improved success in hydrocarbon and water exploration in those systems."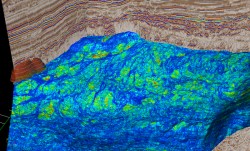 Currently, he is examining Cretaceousage mass transport systems off the Moroccan shelf using advanced three-dimensional software technology to image and interpret these flows. He will present the results of his research at the Moroccan Association of Petroleum Geologists meeting in Marrakech, Morocco in October.
"Some of these debris flows off the shelf have boulders that are two or three square kilometers in size," he said. His group is trying to discover what might have caused the movement of such massive objects.
In addition to working in the QCLIA, Dunlap also provides software training and technology support to other projects within the Jackson School of Geosciences.
Dunlap earned his B.S. in geology from The University of Texas at Austin in 1997.
For more information about the Jackson Schoolcontact J.B. Bird at jbird@jsg.utexas.edu, 512-232-9623.