Seismic interpretation, sequence stratigraphy and seismic facies analysis: Angela McDonnell's research has focused largely on the Gulf of Mexico and its deep gas play potential
December 13, 2006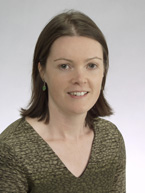 Angela McDonnell joined the Bureau of Economic Geology as a research associate in March 2005.
Her principal interests include seismic interpretation, sequence stratigraphy and seismic facies analysis. Since joining the Bureau, her research has focused largely on the Gulf of Mexico and its deep (>15,000 ft) gas play potential with particular focus on Texas' state waters.
She is also involved with state lands studies including interpretation of the East Texas Field and seismic analysis of the Ellenburger Group and Barnett Formations in the Fort Worth Basin. A particular interest is the analysis of paleocave- system collapse structures as observed on seismic data and their comparison to outcrop examples. These structures pose hazards for gas well drilling and production.
McDonnell received her Ph.D. from University College Dublin, Ireland. Her research focused on the sequence stratigraphic development of passive margin depositional systems, deep water contourite deposits, and deep water, sub-photic carbonate mound growth.
She worked as a consultant geophysicist for Fugro Robertson for three-and-a-half years prior to joining the Bureau in early 2005.While at Fugro she gained experience on numerous basins worldwide (offshore Ireland and Norway, North Africa, Gulf of Oman, Persian Gulf, East Coast U.S. basins and offshore Brazil) integrating seismic interpretation, sequence stratigraphy, sedimentology, and structural analysis. She also designed and taught short courses on topics that include workstation techniques, attribute analysis, seismic sequence stratigraphy, prospect analysis, and basic seismic interpretation.
What does she love most about her work? "I love the constant variety in day to day work and the interaction with other researchers here at the Bureau and with industry partners," she said.
For more information about the Jackson School contact J.B. Bird at jbird@jsg.utexas.edu, 512-232-9623.