Sedimentological and Stratigraphic Studies: Wayne Wright's regional research has focused on the greater Permian and Fort Worth Basins
January 6, 2006
Regional Sedimentological and Stratigraphic Studies
Wayne Wright came to the Bureau of Economic Geology as a consultant geologist in 2005 and became a research associate in January 2006.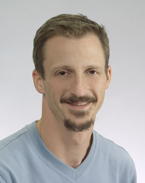 Wright is currently conducting regional sedimentological and stratigraphic studies on the greater Permian and Fort Worth Basins. He also conducted geological evaluations of potential FutureGen sites for Phase 1 and Phase 2. His focus in the Greater Permian Basin is the Pennsylvanian succession and the overall tectonic and structural evolution.
Within the Greater Fort Worth Basin, he focuses on the Mississippian Barnett Formation and the overlying Pennsylvanian successions.
One of his other key interests is linking diagenetic studies in carbonates to sequence stratigraphic models at the reservoir and basin-scale. The upscaling of pore-scale reservoir properties is vital in establishing the best methods for recovering reserves in a reservoir, as well as having a regionally accurate exploration model. To that end, Wright is trying to develop new methods for quantifying pore geometries and shapes in 3D using image analysis techniques and microscopy.
In general, mud-rock depositional systems such as the Barnett Formation are not nearly as well understood as other siliciclastic and carbonate systems. Currently, the Barnett Formation shale-gas play in the Fort Worth Basin produces 2 percent of U.S. domestic gas. Therefore, understanding this play type is vital to the overall economics of the U.S. and to decreasing dependence on foreign oil and gas.
By defining the stratigraphic evolution of the Forth Worth Basin from the Ordovician underpinnings through the Mississippian Barnett Formation and ultimately the overlying Pennsylvanian successions, an improved exploration model for the Barnett Formation can be created.
This study is defining the facies types present in the basin and their distribution using wireline logs, core and outcrop data, geochronologic and biostratigraphic data, and seismic. Overall, this research is extremely important for understanding mud-rock "shale" gas systems worldwide and creating a template which can be exported to other undeveloped areas.
Further, this work is helping to define the structural and tectonic development of both the greater Fort Worth and Permian Basins. Wright is also trying to assess the significance of the boundary placement between the Mississippian and Pennsylvanian Systems in this area, because historically sedimentation patterns have been modeled asserting a regional unconformity at this level. The Mississippian to Pennsylvanian interval in earth history is extremely interesting because it also spans the transition from greenhouse to icehouse climatic conditions which also affect sedimentation patterns and reservoir properties.
Wayne has previous reservoir experience in the Middle East, India, Pakistan, South America, North Africa, North America, and Ireland. His skills and experience include integrated reservoir studies, sedimentology, sequence stratigraphy, biostratigraphy, seismic interpretation, geochemical analysis and modeling, basin evaluation, play fairway mapping, and economics. He has also performed petrographic and geochemical studies to delineate fluid flow vectors and sites of mineral deposition, as well as predictive and retrospective metallurgy using petrographic and geochemical techniques.
As a teacher,Wright specialized in techniques and applications of fluid inclusion analysis in petroleum systems, as well as techniques and applications of cathodoluminescence, carbonate petrography, dolomitization, carbonate geochemistry, fluid flow modeling, and carbonate core logging.
Before coming to the Bureau, he worked as a sedimentologist for Fugro/Robertson Research International Ltd. He received a Ph.D. in geology from University College Dublin, Ireland in 2001.
For more information about the Jackson School contact J.B. Bird at jbird@jsg.utexas.edu, 512-232-9623.