People
Jay Banner's resear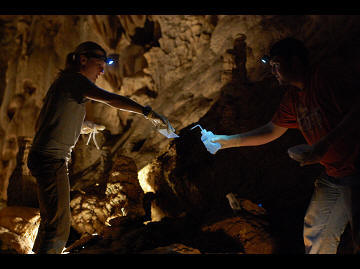 ch group includes graduate students Peter Carlson, Natasha Sekhon, Kendra Bunnell, and Lakin Beal; undergraduate students Kara Posso, Rachel Wright, and Nayoung Hur, and Research Associate Corinne Wong.
Faculty and research scientist collaborators at UT include Dan Breecker, Jack Sharp,Bob Duke, Nathan Miller, Staci Loewy, Liang Yang, Lee Ann Kahlor, Tim Shanahan, Bayani Cardenas.
Research collaborators at other institutions include Isabel Montanez (UC Davis), John Mylroie (Miss. State), John Jenson (Univ. Guam), Larry Edwards (Univ. Minnesota), Libby Stern (FBI), Kathleen Johnson (UC Irvine), John Valley (Univ. Wisconsin), MaryLynn Musgrove (USGS), Elizabeth Hasenmueller (St. Louis Univ.), Jason Gulley (Univ. South Floridea) and Malcolm Cleaveland (Univ. Arkansas).