The Writer in Residence Project
Writing is one of the most critical skillsets for any student to master. Successful geoscience leaders must be capable of communicating effectively through the written word. Most students are only trained in creative writing and develop scientific technical writing skills through trial-and-error, from an advisor or a class offered as extra credit. For the Jackson School, teachingstudents to write well is an expectation, not an exception. To assure that training for these skills are always part of the UTgeosciences curriculum, we are raising funds for a Writer-In-Residence position.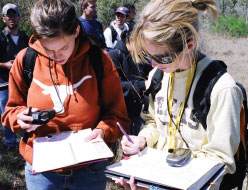 The Writer-in-Residence will help our students strengthen their writing ability. This professional staff member will be a permanent part of our student services team. They will teach students tobetter their writing skills, help instructors integrate more written work into the curricula, and offer community-wide training.
Serving as an advisor, students will have access to work one-on-one with the Writer-in-Residence to learn, practice and perfect this important skillset. To provide easy access to students, faculty and the geo community, the Writer-in-Residence will be housed within the Holland Family Student Center.With $642,500 already committed, we are over halfway to our goal. All gifts at all levels will make this a success. Because we believe in the importance of this position, the Jackson School willprovide a 50% match to any gift of $25,000 or more.
Corporate matches, as part of the total gift, are eligible to be matched as well. Gifts may be pledged over a three year period. For more information, please contact Belle German at (512)471-1993 or bgerman@jsg.utexas.edu. Or make a gift online at http://www.jsg.utexas.edu/alumni/support.