Just Warming Up: Enhancing the Student Experience
In 1924, the University finished construction on Memorial Stadium, at the time the largest sports facility of its kind in the Southwest. The Texas football team went on to become one of the dominant forces in college football, a legacy that has continued for decades. Not surprisingly, many of the other universities with the largest and best football stadiums are also perennial powerhouses, like Ohio State, LSU, and Alabama.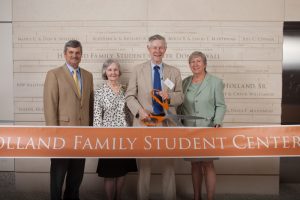 But ask Mack Brown or any of the top college coaches, and they'll tell you great spaces are a foundation for success, but they don't ensure it. To be the best, you need to recruit top talent, teach them the best skills, and foster their success.
Like DKR-Texas Memorial Stadium, the recently completed Holland Family Student Center also has the potential to unlock a wealth of opportunities for the geosciences in Texas, some we can't even imagine today, but only if we continue to fully invest in the students it was built to serve.
The Jackson School has created a student experience unlike any other. From their first days on campus, students are welcomed into the geosciences community through the NeoGeo and Graduate Student Field Trips. We provide our students tutoring in math, physics, and chemistry, subjects critical to their success but taught in other departments. Through the Jackson Scholars program, we foster leadership and scholarly achievement in research, governance, work experience, study abroad, and/or community service. We pride ourselves on rigorous and extensive field training for future geoscientists. But if we want to be the best we must do more.
Now that we have a space that represents the strength of our community, we have the opportunity to fill it with the people, resources and activities that will keep our students on the road to success.
"Through the generosity of our friends and alumni, we are making a UT education financially accessible, rewarding academic excellence and leadership, while preparing students to successfully launch into professional life," said Dean Sharon Mosher.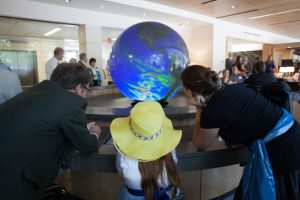 Rewarding students for academic merit is a proven incentive to raise GPAs and our merit-based scholarship program reinforces this measure. Instead of worrying about how they will finance their education or working long hours off campus to pay bills, students can concentrate more fully on their studies. Combined with stricter admissions standards, these scholarships help boost overall academic performance among Jackson School students, further enhancing our reputation as a premiere geoscience program.
We continue to be a leader in getting students into the field, the defining moment between being a student and becoming a geologist. Our goal is to continue to expand this unique feature of our curriculum, from the extremely important Geo 660 Summer Field Camp to parallel tracks in hydrogeology and in marine geology and geophysics.
Providing meaningful recruiting packages for the most talented graduate students is vital to maintaining our competitive edge. This is a group of students who are smart, extremely mobile and in great demand. In a highly competitive marketplace, we should not lose any outstanding individual solely because of financial reasons. That's why we created the Prestigious Graduate Fellowships.
Taken together, these resources will breathe life into the new student center. From the moment students step through its glass doors, to the day they graduate and begin their careers, they will know that the Jackson School has prepared them in mind, body, and spirit to meet the geoscience challenges of the 21st century.
We want your partnership as we grow on this path of excellence. Go to www.jsg.utexas.edu to learn how you can become part of our continued success.
Special Note from Dean Mosher:
Alumni and Friends of the Jackson School: The eyes of Texas and the world were upon us. And we shined.
In June, I had the privilege of welcoming 250 friends and alumni to celebrate the dedication of the Holland Family Student Center. Built primarily with donations from more than 350 friends and alumni, we have forged Jackson School's place as a model program at UT and for geoscience programs around the country. In 2005, many people wondered if our community would rally around the new Jackson School. Would we have the continued support to realize our ambitions? You answered with a resounding "yes."
The Holland Family Student Center will strengthen our close-knit Jackson community, help attract the best students to the geosciences and shape our vision of a small-campus feel within the larger UT campus. On constant display for any visitor to the center will be the community, teamwork and sense of purpose that mark our school.
There is something else magnificent on display within the center: the names of hundreds of friends and former students (many whom I remember teaching) who made it a reality. That's the community that stands behind our students. When students join our team, they know they are part of something special, something great. And that feeling will sustain them as they build a successful future within the geosciences at UT. The real strength of our community lies with you. Together, we are making the Jackson School a better place.
On behalf of thousands of students who will pass through the Holland Family Student Center doors, I thank you.
Sharon Mosher, Dean