In Memory of Dr. Rodulfo Prieto Cedraro
Friends and colleagues,
Our dear friend Rodulfo left us too soon. Those of us who knew him will always remember him as an honorable man who was dedicated to his family and his profession. He was a scholarly man who had many close friends around the world.
Rodulfo was passionate about education; he received a Bachelor of Applied Science in Geological and Geophysical Engineering from The Pennsylvania State University in 1980, a Geophysical Engineering degree from Universidad Central de Venezuela in 1983 and a Doctorate of Philosophy in Geological Sciences at The University of Texas at Austin in 1987. His research resulted in numerous publications. His work career began with Petrόleos de Venezuela S.A. where he held many leadership roles until 2003. As a result of his vast knowledge and strong work ethic his career path led to the position of Vice President and General Manager of Suelopetrol Corporation in Houston, Texas. In addition, he shared his knowledge with students at the Universidad Central de Venezuela where he taught for many years.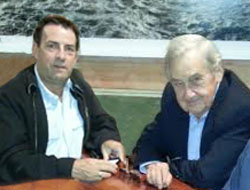 Rodulfo Prieto Cedraro Memorial Excellence Endowment Benefitting the William L. Fisher Chair at The University of Texas at Austin. I am deeply honored by this enduring legacy that Rodulfo and I will share in perpetuity. I invite you to honor Rodulfo's memory by contributing to this endowment, and I thank the generous individuals who have already given. Your donation in any amount will be acknowledged with a personalized card sent to his family on your behalf.
Members of The University of Texas at Austin family and I extend our deepest sympathy. Thank you for your consideration.
Sincerely,
Dr. William L. Fisher
Professor and Leonidas T. Barrow Centennial Chair in Mineral Resources
The University of Texas at Austin
Jackson School of Geosciences

Given in Memory of Rodulfo Prieto Cedraro
Bill and Marilee Fisher
Marinela Prieto
Carlos and Morelia Sanchez
Edgar and María Clara Peláez
Víctor and Adriana Estraño
Felipe and Carlota Pάrraga
Orlando and Emily Salazar
Mark Helper
Sharon Mosher
Jairo and Yolanda Lugo
Felipe and Nancy Audemard
Eva Moldovanyi
Alexander R. Gonzalez
Jose I. Guzman
Alberto M. Rial
Maria V Castillo de Ott
Carlos Dominguez
Luis Vielma
Richard E. Lytle
Robert N. and Wendy S. Hale Erlich
Maria Anzola
Gustavo A. Hernandez
Gerard Soto
Ricardo J. Padron
Lynda Moczygemba
Isabel Serrano
Miguel Morales
Carlos Alvarez
Ricardo Ramirez
Lisbeth Navarro Smith
Luis A. Velάzquez
Roger A. and Marilyn F. Becker
Adrian and Yolanda Perarnau
Brenda L. Rojas
Edgar J. Sequera
Suelopetrol Corporation
Armenio Azavache
Carla S. Phelps
Eric and Belle German
Ludovico and Cristina Nicklas
Karl V. Mazeika
Sam L. and Phyllis Evans
Mario Zamarippa
Alejandro Vicentini
For more information contact:
Belle German
Director of Development & Alumni Relations
Associate Director, Geology Foundation
The University of Texas at Austin
Jackson School of Geosciences
JGB 6.206F
2305 Speedway, C1160
Austin, Texas 78712-1692
Tel:   512-471-1993
Cell: 512-808-6018
Bgerman@jsg.utexas.edu