Fifteen by '15: JSG Aims for Most Loyal Longhorns
Five years ago, the Jackson School had one of the lowest alumni giv­ing rates at the University of Texas at Austin (13th out of 15 colleges and schools). Only about 4 percent of alumni made donations to the school on a regular basis. Over the last five years, the rate has more than doubled to an impressive 9.5 percent. The Jackson School has the second highest alumni giving rate at the university.
We are so proud of this deepening involvement—and you should be too. Of 15 schools and colleges, only two increased their alumni giving rate over the past five years: ours and the business school. And that was during a major recession.
We're setting our sights on the top spot at the university with our Fifteen by 2015 Campaign, so be sure to get on board.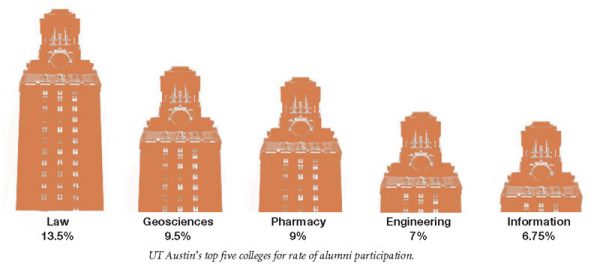 An alumni giving rate of 15 percent will show that the people closest to the institution, those who have gained the most benefit from the school, are putting resources back to continue its success. Your contribution makes a statement to the entire geosciences community that you believe in our programs, mission, and vision.
Richard Chuchla (M.A. '85), chair of the Geology Foundation Advisory Council and new opportunity manager for South America at ExxonMobil, says a strong giving rate is a key to significant and sustainable growth.
"It's about the power of a team versus reliance on a few stars. It's about predictability versus volatility," he says. "With many involved, each with changing and unpredictable life circumstances, our chance of success increases."
Your participation as a donor to the Jackson School enables you and your family to impact the future direction of the school and become an active participant in its evolution. By helping to build the nation's top geosciences program, you have the opportunity to be a part of history. When you are an active contributor, you can take pride in each accomplishment of the school, each award, each discovery, each step on the way to excellence. You, and many others like you, can rightfully say, "We did that."
Every gift, every year makes the difference for the school. Whether you make an annual end-of-year gift to the school, create an endowment that supports an area of special importance to you, or give on a monthly basis, the point is that consistent giving across time, from all our alumni, is how we will achieve success with the Fifteen by 2015 Campaign.