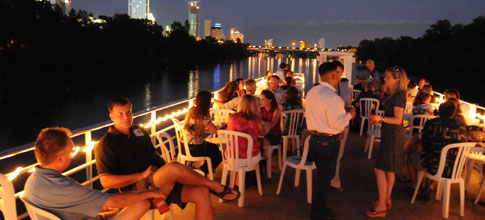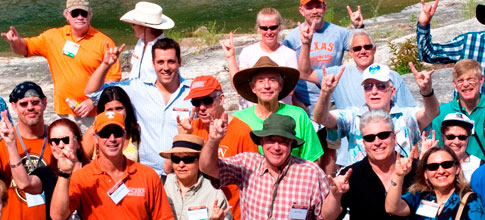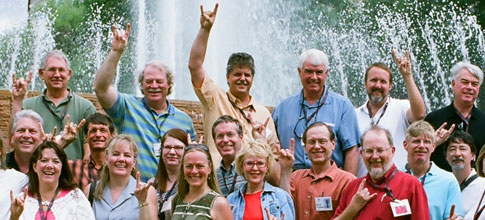 JSG Alumni Reunion
April 26-27, 2013
Another exciting Reunion is in the books!
Our 2013 Jackson School All Alumni Reunion was an overwhelming success!  Over 100 alumni, students, faculty, scientists, and staff reconnected on campus at the end of April.  We had a lot of fun and even learned a thing or two.  Attendees were excited by ALL that the Jackson School has to offer, both on the 40 acres and at the Pickle Research Campus.  They enjoyed visiting a sampling of our state-of-the-art labs, including multiple flumes, the stable isotope lab, the CT lab and many more. We also showcased a private screening of the acclaimed, agenda-free energy documentary Switch produced, written by and featuring our very own Dr. Scott Tinker.
This year's field trip took a group out to Pedernales Falls State Park for a hands-on geology lesson with two of our esteemed faculty members, Dr. Charlie Kerans and Dr. Mark Cloos.  An unexpected demonstration of cutting edge science by way of drones was the hit of the morning!
Those present got to interact with the next generation of geoscientists at a poster session over lunch in the Holland Family Student Center.  Student presenters were the top award winners at the second Annual Jackson School research Symposium this spring.
Alums were able to reconnect to the University in many ways as well, such as visiting the brand new Belo Center for New Media and having a private tour of a long-time favorite, the Harry Ransom Center.  But nothing beats taking pictures with Bevo, being serenaded by the band at Darrell K Royal – Texas Memorial Stadium, and getting a private tour of the UT Tower with your classmates!
We capped off these fun-filled two days with dinner and dancing at the Texas Memorial Museum. Coyote Crude, a geology born-and-bred Texas country band, featuring our very own Wilson Echols, currently a junior at the Jackson School, was the perfect ending to a wonderful weekend.  We had a blast this year and hope to see even more alumni and friends at the Reunion in 2016.
2013 Reunion Photos
For more information, contact Kristen Tucek (512-471-2223, ktucek@jsg.utexas.edu)
2013 Reunion Photos
Photos from Previous Reunions